The amazing mountain scenery of the Dolomites with Rosengarten and Latemar!
Here you'll find everything except boredom. An infinite number of hiking opportunities, climbing trails, mountain bike tours etc..
Our large garden with children's playground and barbecue facilities is the perfect place where to unwind and forget daily stress.
Panorama Airtour 360 Grad  Welschnofen Carezza
Family Summer
(SPECIAL offers)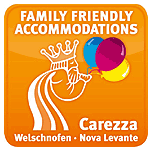 - Family Weeks "Say magic Dolomites"
  - Outdoor pool in Nova Levante
  - Trekking with lama e alpaca
  - Planetarium Gummer South Tyrol
  - Museo Archeologico dell'Alto Adige - Ötzi – l'Uomo venuto dal ghiaccio
  - Museum of Nature South Tyrol
  - Horsecenter ANGERLEALM


Dolomites with Rosengarten and Latemar- UNESCO World Natural Heritage
On Friday, 26th June 2009, the Dolomites were placed on the prestigious list of Natural World Heritage Sites. The decision was made by UNESCO at its annual world congress. UNESCO was enchanted by the beauty of the Dolomites: pointed spires, jagged summits and glorious colors that change throughout the day. At sunset the Dolomites turn a fiery red, then change to violet before disappearing into the night. This is the "Enrosadira" – a phenomenon caused by the unusual chemical composition of dolomite – a natural spectacle that is beyond compare.
New Guest Card Rosengarten Latemar: Special benefits across the Dolomites!

» Catinaccio Alpine Centre    |     » Krauti's Bike Academy    |     » UNESCO World Natural Heritage